Starting with only a traditional and imported South African Spice called SAFARI seasoning and a CHILLI flavour, the demand for varieties of these meaty savoury snacks grew! Customers demanded Garlic, Pepper, a sweet flavour, an Asian flavour, traditional BBQ, a flavour not too spicy and one even hotter! Jim rose and met every request and in doing so learnt the art of creating flavour profiles that took the jerky market by storm! By 2009, Jim had learnt a lot about spicing dried meat and decided to take his business to the local spice providers and mix his own. It took weeks of blind tasting by dedicated staff but in the end - it was official - Jim had created his own secret base jerky spice blend. Only the best spices are used and with the help of local spice suppliers - Jim is continuing to offer new flavours year after year. You'll notice a core range of 7 flavours that have passed the test of time - but watch out for that LIMITED EDITION flavour as Jim keeps it fresh and gives jerkaholics something new every couple of months!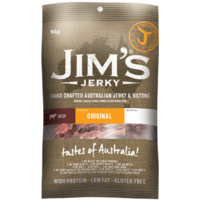 FLAVOUR
Original
This flavour is far from plain - a mix of beefy-ness and coriander with small hints of garlic and pepper and is sweet and salty all in one hit!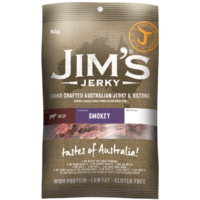 FLAVOUR
Smokey
We're sure part of the secret to the amazing infuzed smokey flavour is the fact that this smokey taste comes from natural wood smoke used during the drying process, not artificial additives. Delicious!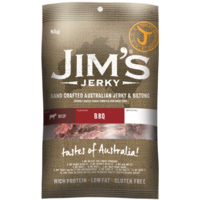 FLAVOUR
BBQ
This savoury flavouring is a mix of beefy-ness, worcestershire sauce and smokey flavours of classic bbq grilling!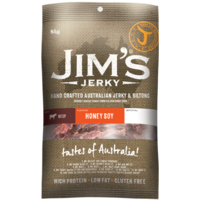 FLAVOUR
Honey Soy
This flavour doesn't disappoint, giving the typical taste profile of sweet honey mixed with soy to bring out savory characteristics too!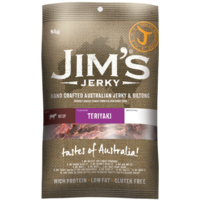 FLAVOUR
Teriyaki
A delicious blend of soy sauce, sesame, brown sugar, vinegar and spices.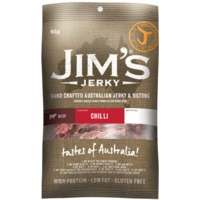 FLAVOUR
Chilli
So everyone only rates me around 7 out of 10 stars for my burn, but no doubt about it, I am a heated chilli flavour.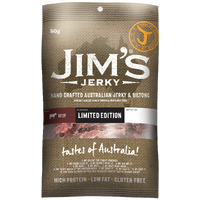 FLAVOUR
Mango Chilli
SHE'S BACK! And isn't she lovely?