Jerky

&nbsp-&nbsp

Original

&nbsp-&nbsp

{BEEF}
Original Beef Jerky
Buy 85g bags in Bulk and SAVE:
Purchase 3-5 bags $12.00 each
Purchase 6-9 bags $11.00 each
Purchase 10+ bags $10.50 each
*Because Jim's a good guy - this deal automatically applies to all 85g Jim's Jerky Flavours
Flavour Profile:
My flavour is a mix of beefy-ness and coriander with small hints of garlic and pepper and is sweet and salty all in one hit! I am the base flavour and have added something a little addictive that you will find in every flavour from Jim's!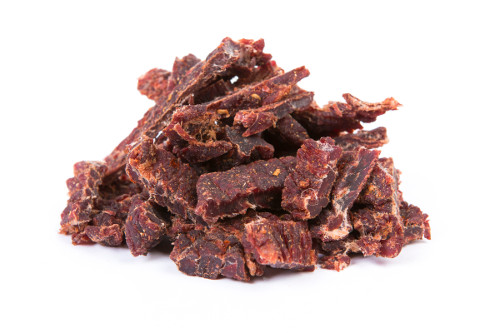 Beef:
Topside Beef minus The Fat + Yummy Spices + 24 Hours Drying on a Rack = Jim's Awesome Beef Jerky. Sliced and bagged for your convenience.
Interestingly...
I am the oldest and therefore the smartest flavour at this fine establishment. (I'm nearly as old as Jim, but don't tell him I know his age. No one is supposed to be able to count that high.) I'm the original flavour; all the other flavours are derived from my spice.
Size:
85g is a great size to take with you anywhere that you'd need a handy and filling snack.
1kg BULK bags are re-sealable and best value for money! *Please note: You will be posted 1kg bags while stocks last however if they sell out - and are not available you will automatically be sent 12 x 85g bags of the flavour you've chosen.
Nutritional Information Panel (85g bag):

other flavours you might like:
If you enjoy my mild taste - you will also enjoy the No. 1 favourite - BBQ!!, sweeten up your day with HONEY SOY or enjoy the addictive tones of SMOKEY!