Jerky

&nbsp-&nbsp

Smokey

&nbsp-&nbsp

{BEEF}
Smokey Beef Jerky
Buy 85g bags in Bulk and SAVE:
Purchase 3-5 bags $12.00 each
Purchase 6-9 bags $11.00 each
Purchase 10+ bags $10.50 each
*Because Jim's a good guy - this deal automatically applies to all 85g Jim's Jerky Flavours
Flavour Profile:
We're sure part of the secret to the amazing infused smokey flavour is the fact that this smokey taste comes from natural wood smoke used during the drying process, not artificial additives. Delicious!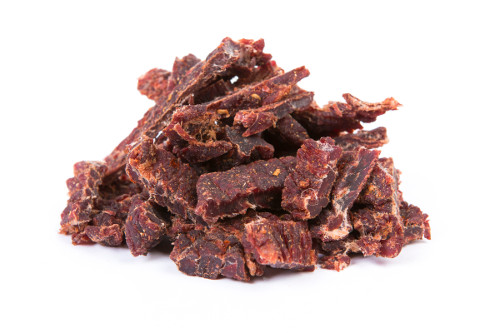 Beef:
Topside Beef minus The Fat + Yummy Spices + 24 Hours Drying on a Rack = Jim's Awesome Beef Jerky. Sliced and bagged for your convenience.
Interestingly...
I am the newest flavour and have shot myself to stardom to become the second most popular flavour in Jim's Jerky's range.
Size:
85g is a great size to take with you anywhere that you'd need a handy and filling snack.
1kg BULK bags are re-sealable and best value for money! *Please note: You will be posted 1kg bags while stocks last however if they sell out - and are not available you will automatically be sent 12 x 85g bags of the flavour you've chosen.
Nutritional Information Panel (85g bag):

other flavours you might like:
If you enjoy my mild taste - you will also enjoy the Original and BBQ flavours