SEND A SNACK!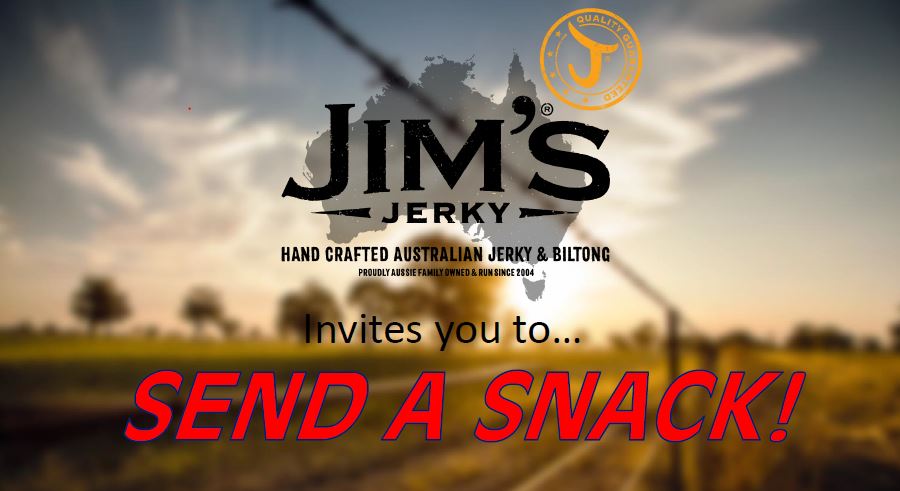 Jerkaholics. We're all going through a rough bloody time at the moment. The only thing that unites us is a deep deep dislike of viruses and that for once - the entire world is in the same boat. And while our world becomes smaller and we're feeling so far from family, friends and loved ones it's easy to feel a little helpless. That's where Jim's Jerky's SEND A SNACK comes in!
Want to say thanks to your neighbour for helping you out in isolation?

Want to show your love and support for one of our selfless & heroic front-line workers?

Want to let a fellow jerkaholic know you're thinking of them in this bloody awful time?
Then SEND THEM A SNACK!
There are 3 simple steps:
1. Shop online as you usually would
2. Under Shipping Method - Select "Different Address" and add in your mate's address and details
3. Further down, Select "Add Delivery Directions" where you can add a little note so the lucky recipient knows who SENT THEM A SNACK!
The parcel will include your note printed on some of Jim's personal & VERY SPIFFY stationery & a list of what goodies have been sent to them (but no prices!). Your invoice will be emailed to your email address.
Just one little way you can spread some delicous cheer in these dark times Jerkaholics. Stay safe - Team Jim's x
**Unfortunately Australia-wide only guys :(